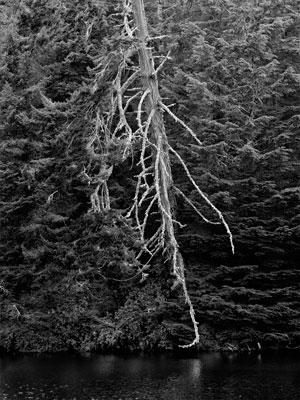 Western Hemlock On Eel River (26-3-472-R-bw)
Ordering Process.
Please contact Michael Easton either by email or phone/message (+1-604-836-0990) or on Telegraph or WhatsApp (+1-604-836-0990).




(1)choose images from the image galleries by using the Image Selection Tool which is activated by selecting one or both of the white boxes beneath each image.

(2) The View link shows the contents of the Image Selection Tool in the Viewing Room where final choices can be made.

(3)The final selection of images can be sent to Michael directly from the Viewing Room. Please include the print size and quantity required for each image, as well as the shipping address and method of payment. Do not include credit card infomation until the quotation is approved. Please include any questions you may have.





All works are priced as unframed (print only). When requested, the credit card information should be sent by message on the more secure Telegraph App or relayed by voice.

If in Canada, payment can also be by e-transfer using phone number 604-836-0990. Shipping within 10 days after receipt of payment.
---
Fine Art Paper Prints - Size and Price (USD)
| | |
| --- | --- |
| Print Size (inches) | Price (US dollars) |
| 5 x 7 | $60 |
| 8 x 10.5 | $90 |
| 16 x 21.5 | $390 |
| 20 x 27 | $660 |
| 30 x 40 | $1300 |
| 36 x 48 | $1700 |
| 50 x 67 | $4,000 |
| 58 x 77 | $5,000 |



Fine Art Paper Prints - Production

Produced under close supervision of Michael Easton to achieve high quality with the combination of:

A very high resolution image with a very wide colour tonality
Epson Ultrachrome Pro pigment ink
Epson Fine Art Platine Paper
Printed by the Epson Surecolor P2000 printer
The Print

For prints 11 x 14.5 inches or larger, there is a 1 inch white border on the top and both sides and a 2 inch white border on the bottom (the signature strip).
When kept indoors out of direct sunlight and framed with glass, there is zero colour shifting for over 100 years according to Wilhelm Willington Research, 2023..